AGLAIA INTERACTIVE JAIPUR LITERATURE FESTIVAL – DAY 4
By Sunil Kumar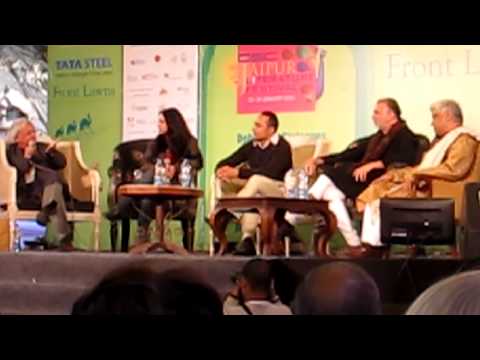 If some people say every moment in our life is full of infinite possibilities, then it probably is. Even if you can hear real voices around you. It is when the dead may come to life during the day, and eerie figments of the imagination have the possibility to create more ideas within your head. Life is full of  wonder, if we could gaze at it without blinkered vision. I say this for myself and everybody. And if I can find some happiness on a warm, humid day. The room temperature is 31 degrees centigrade.
Moving on to Day 4: Jaipur Literature Fest. Now this makes me smile. This was a truly wonderful session. Gulzar, Prasoon Joshi, Vishal Bharadwaj and Javed Akhtar in a session on "Kahaani Kisko Kehte Hain(What indeed is a story?). The introduction was an interesting snippet on Woody Allen, our spectacled man from the great beyond, with his curious tales on life and existence.
Gulzar was at his enigmatic best, comparing the process of writing to building a house, and other poetic metaphors. Javed Akhtar was marketing his book, and Prasoon Joshi was in an Uttarakhand of his mind. Vishal Bharadwaj is one of our most exciting film-makers and music composers with the surreal imagination of "Saat Khoon Maaf".
Adaptations was also another interesting session, as Lionel Shriver kept mouthing expletives and giggling in a semi-manly way. Richard Flanagan and Tom Stoppard did shed some light on the film-making processes in Australia and England. Stoppard was engaging as he is also the author of the screenplays of "Shakespeare in Love" and numerous plays.
The human race is curious, and so are CMSes and websites. The page got altered, and so I am again modifying ideas. After this effort, the day will continue.
And so in my words, hope a lot of people did actually read this, and I  primarily and all of us collectively get something out of it.