Visit Aglaia Interactive – The World's Leading Communications Agency
Kahaani – A Story
Mysteries in dark corners, the city of joy. Sleaze and corruption, romance and intrigue brews in this masterful tale. A seemingly innocuous Vidya Balan lands in Kolkata, to find a master web of deception in which she seems to be a hapless victim.
We are truly taken in by her mesmerising performance, as she goes from pillar to post in search of her supposedly "dead" husband. The good-natured policeman played by Parambrata Chaterjee is superbly cast as an able assistant to Vidya Balan as she scouts the city as a pregnant woman trying to find traces of her husband.
The cinematographer's vision of Kolkata is engaging. The city indeed looks varied, pulsating and enigmatic. It is interesting to see how a sympathetic vision can transform the perception of a place, whatever the reality may be, anywhere. Sai Paranjpye or Kiran Nagarkar's realistic look at the chawls of Mumbai in their movies or books also brought a hitherto new world to life.
I also believe that the commercial world of mainstream Bollywood cinema is like a safety valve for the dystopian reality of our towns, cities and country. Imagine how depressing our cities would be if everybody only made "arty" movies. The vibrancy, color, rhythyms and sheer madness of everyday life in India would definitely be lesser.
The director also admitted that he was inspired by Satyajit Ray. The framing of scenes, as well as visual allusions to mainstream Hindi cinema such as Deewar, and the slight foreign inspiration subtly made its way into the overall creative vision.
There is never a dull moment in this wonderful tale. The story is apparently inspired from slightly similar experiences that Advaita Kala, the novelist had when she landed from the U.S to work in the Oberoi Grand Hotel, in search of her lost boyfriend. This is unlike Vidya Balan's character(Vidya Bagchi) who lands from London.
The film is essentially female-centric and has garnered rave reviews like Vidya's recent outings at the box office. Adding to the element of mystery is the corrupt Intelligence Bureau head(Bhaskaran), his rough assistant Khan and the occasional glimpses of the honest patriot Colonel Bajpai, whose love for the nation prompts him to assist Vidya Bagchi in the very interesting ruse of an apparently pregnant woman.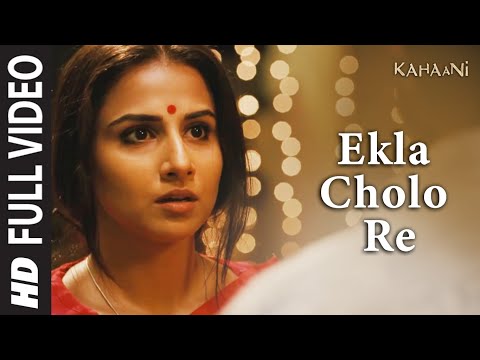 Without revealing the entire plot, Kahaani is a very engrossing movie, and is undoubtedly one of the most interesting screenplays to hit the big screen in some time.